" I always wanted to learn but, didn't take the time and now I'm too old to learn" This is a statement heard way too often by guys who play either from fans or family and so many times it is not true. Anyone at any age can learn guitar. I have played for over 25 yrs. and although not a rock god or a guitar guru, I play well enough to sit around and strum many of the old classic songs of country or old rock and roll. Songs like Johnny B Good, or Country Boys can survive.
Center Stage Guitar Academy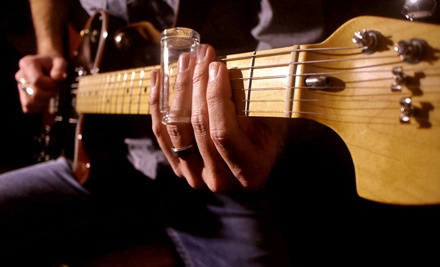 $19 for One Year of Online Guitar Lessons from Center Stage Guitar Academy ($108 Value)
Besides the first reason I listed, I hear things like, "It takes too long to learn it to play any songs. or I've tried and sometimes I would try for a couple hours and my fingers hurt still. This is one we can do nothing about as far as the pain in the fingertips. Instead of enduring pain though, pick up your guitar and practice for one hour. Then put it down and pick it up again tomorrow for an hour and so on and so forth. All instructors will tell you,"play for one hour each day is better than one 7 hour practice session.
Dangerous Guitar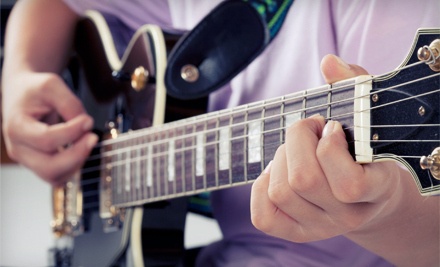 $18 for One Year of Online Guitar Lessons from Dangerous Guitar ($134.55 Value)
As for the one where it takes too long to learn to play a song with the chords, not true. When my son wanted to learn,(long before we had internet) he wanted his own guitar, I told him he could play my old one and when I thought he was serious, I would buy him one. When I asked about his progress he said he hadn't practiced for a while because he was bored with it because he wanted to play a song. I showed him a song he could play with 2 chords and he went to his room to practice and an hour later he was playing it at a point where it wasn't too bad. Actually the problem he was having was switching chords in a timely fashion, then he wanted to learn another and I obliged but with 2 different chords and so on.
Did he learn? yes. Did I buy him one ? yes I did, and to this day he owns and plays an electric, an acoustic, an amplified acoustic, and he plays many times better than I ever will. After he learned all I had to show him he went to others who played in bands and jammed with them a bit and learned some tricks, then he would take videos of bands in concert but only video their pickin style or their chord structure and watch at home and play for hours.
My point is, if you really want to learn to play or want to learn to play better, this is the best deals you will find. Now that Internet has come anyone can play today. I've looked at both sites and they can have you playing today. Both have great lessons for beginner and intermediate and advanced. Both have a lot of lessons online and you can view content over and over.