Center Stage Guitar Academy – Online Deal, This is the deal to take advantage of. I have gotten many requests about this deal and I believe many are getting confused by the wording.
The deal:
One full year of Guitar lessons for 19.00.(sign up for different skill levels)
The confusion:
according to the fine print, it says it expires in 180 days of purchase. This does not mean that you only get 180 days of lessons. This means you have to activate the deal within 180 days and from that activation day forward, you get one full year.
So click the deal here
Click me for center stage guitar academy deal
and purchase before time runs out and be sure to activate within the 180 days of purchase.This is a great deal offered and should be taken advantage of.
If you are shopping for a guitar or accessories, go to GuitarCenter.com
for all you need. From 5.00 strings or a 50,000.00 dollar studio or any thing in between and they will beat any advertised deal.
Shop Guitar Center for Father's Day deals! Save $50 off purchases of $299 or more! Use code DAD13. Offer valid 6/10-6/17.
(TIP: use this code for any purchase over $75.00 for money off)
Heres another deal for guitar lessons online
. This one offers access to over 650 online video tutorials in a wide variety of styles for 18.00 through Dangerous guitar website that boasts over 5,000 facebook fans. click this ad to read all about it
Dangerous Guitar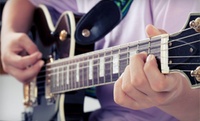 $18 for One Year of Online Guitar Lessons from Dangerous Guitar ($134.55 Value)
want to share your view privately? email me at MYOWNOPINION@WOH.RR.COM